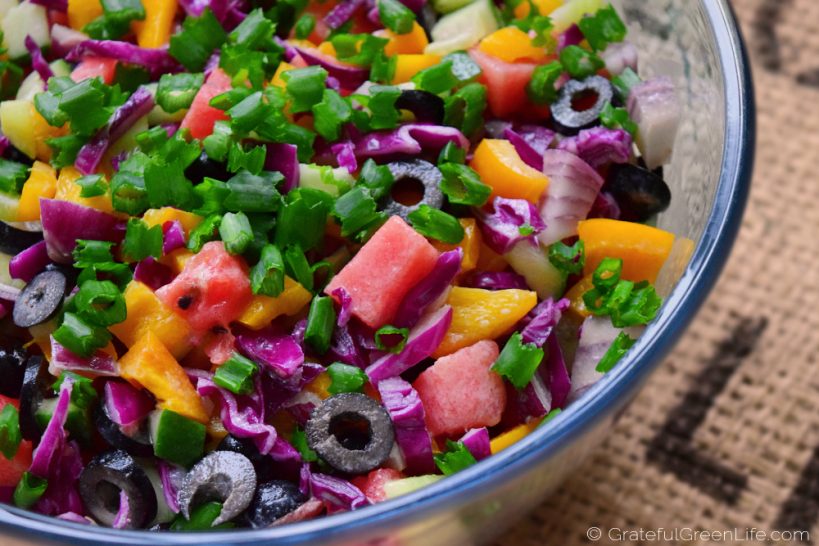 Who says salads are boring? Today I'm sharing one of my favourite summer salads, which is super-hydrating and is bursting with colour and flavour!
I first made this salad after a midday run, on one of the hottest days of the year! I honestly don't know what I was thinking, but my ill-timed run left me so dehydrated, that I arrived home with a pounding head, craving emergency fluids and electrolytes!
Food was also on my mind, so after showering and sipping some electrolyte drink, I headed to the fridge to see what I could make for lunch.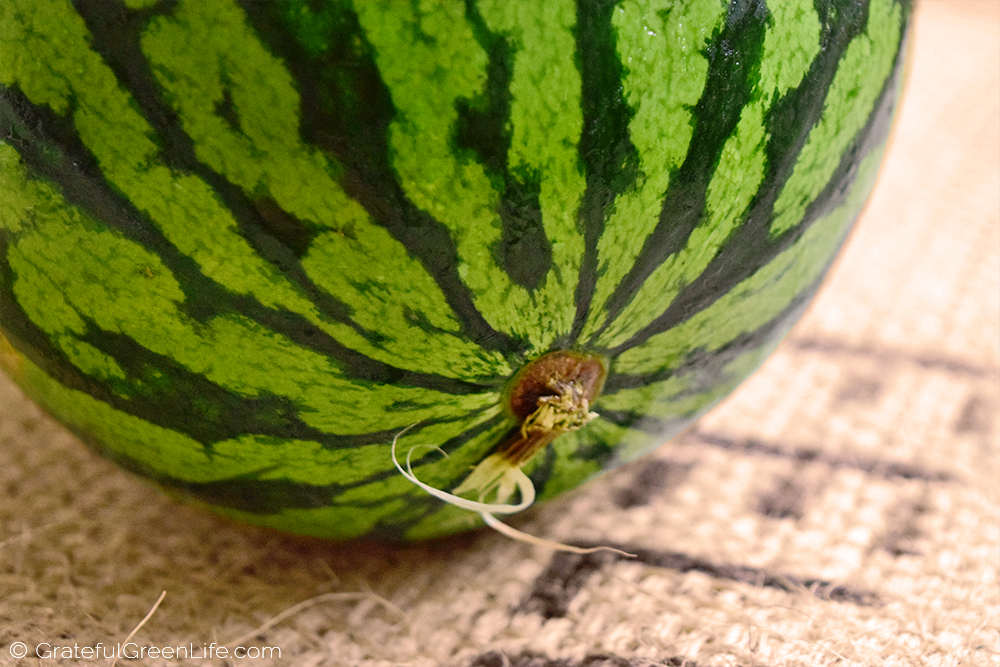 Foods to Rehydrate
The first thing that caught my eye was a beautiful, juicy watermelon. Perfect, I thought – knowing that watermelon not only contains oodles of water, but also a healthy serving of electrolytes.
Next, I grabbed some refreshing cucumber, and then something salty… Olives!!
For the longest time, I didn't like olives at all (despite my childhood dream of one day owning an olive grove!) and for many years I also avoided adding additional salt to my diet.
Olives have really grown on me though, and ever since I started running, I've found that a little extra salt is my friend!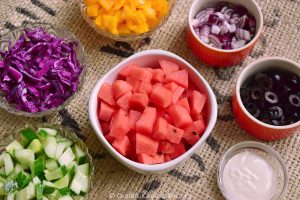 After cutting up my watermelon, olives and cucumber, I then added a variety of seasonal, rainbow-coloured veg. Finally, I finished my salad off with some lemon-tahini dressing.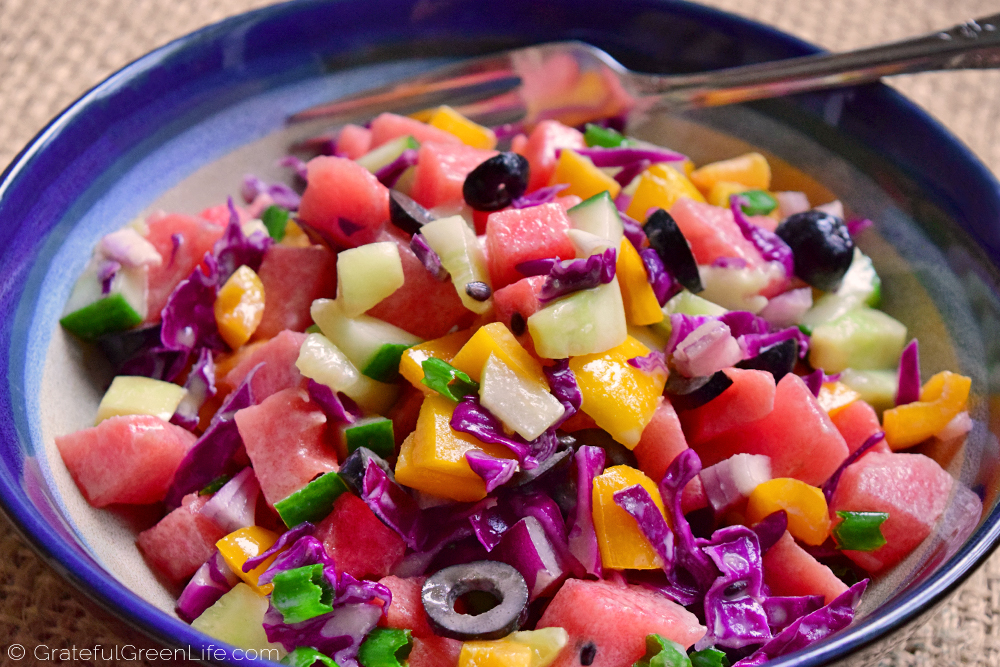 Having this hydrating, nutrient-rich salad on that hot summer's day was one of the most satisfying meals of my life, and this is why I wanted to share it with you all today!
I hope you enjoy it as much as I do, and please let me know in the comments below, what type of salads you like the most!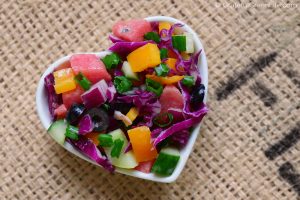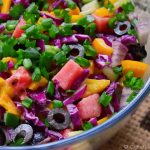 Print
Easy Summer Salad with Olives and Fresh Watermelon
A deliciously hydrating vegan salad, that's perfect for hot summer days!
Ingredients
2

Cups

Cubed Watermelon

1

Cup

Diced Cucumber

1

Cup

Sliced Red Cabbage

1

Cup

Chopped Bell Pepper

1/2

Cup

Sliced Olives

1/2

Cup

Diced Red Onion

2

Tbsp

Lemon-Tahini Dressing
Lemon Tahini Dressing
3

Tbsp

Tahini

2

Tbsp

Water

4

Tsp

Lemon Juice

1/8th

Tsp

Salt
Instructions
Slice up your watermelon, olives and salad vegetables and put them into a large bowl.

In a small bowl, make the lemon-tahini dressing by mixing together the tahini, lemon juice, water and salt. Stir until it's creamy and smooth.

Add 2tbsp of the dressing to your salad bowl.

Toss the salad until it's evenly coated in the dressing, then serve it up and enjoy!