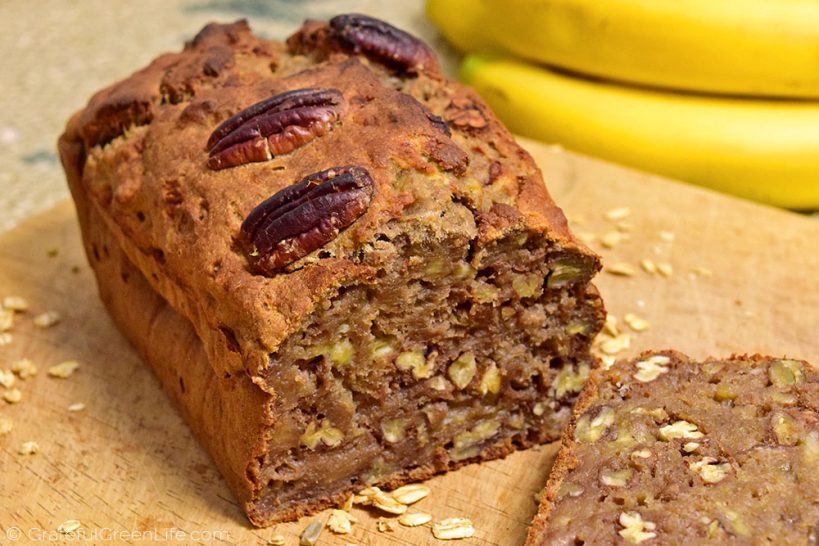 Hey my loves, welcome back!
Today I'm having a slow, cosy day as I decompress from the festive season, and focus on rest and healing.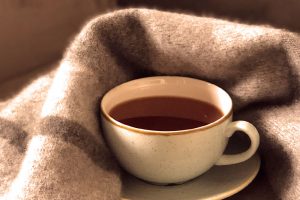 I'm not too good at sitting still, but on gloomy days like today, it feels so soothing to be snuggled up with my cats, sipping tea, and listening to my latest audiobook (currently 'The Courage to be Disliked').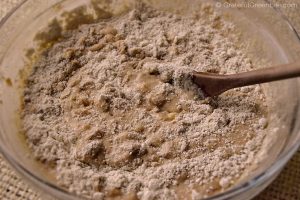 Earlier on, I made a loaf of banana bread, which is now baking in the oven, and is beginning to fill my home with its comforting, doughy aroma. ??
Over the past few years, banana bread has become a much-loved part of my diet. I love to have it for breakfast, and I always take some with me, when I go out running on the hills. (No more nasty sports gels for me!)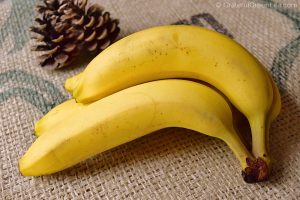 Although there are many different ways to make banana bread, my go-to recipe (that I'm sharing today) is the best I've ever tasted!
It uses wholesome, gluten-free oat flour (you can use plain flour if you'd prefer) and it's suitable for vegans too.
It's also packed with pecan nuts – which are incredibly high in antioxidants and add a wonderful, crunchy texture!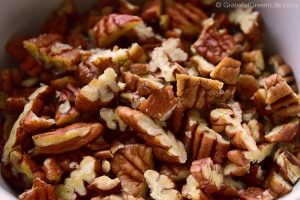 This delicious recipe is a really great way to use up any ripe bananas, and because this banana bread doesn't contain yeast, it's super quick and easy to make.??
How to Make Vegan Banana Bread
This deliciously sweet banana bread is a great source of dietary fibre, healthy carbs, good fats, vitamins and essential minerals.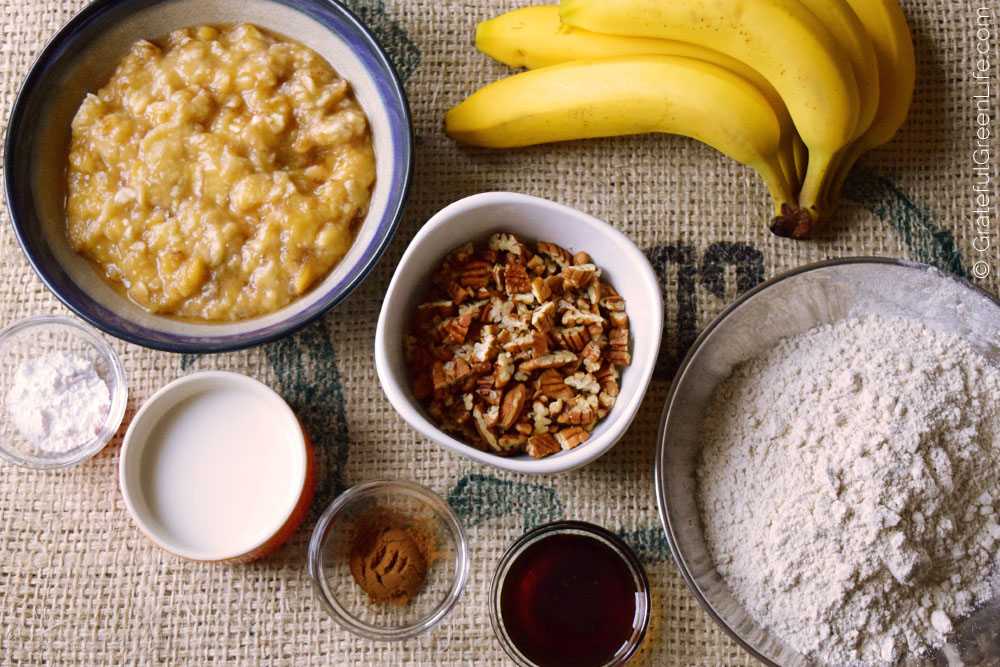 To make this recipe, you'll need:
3 Medium-Sized Ripe Bananas
1.5 Cups of Oat Flour
1 Cup of Pecans
Half a Cup of Plant Milk
3 Tbsp Maple Syrup
1 Tbsp Baking Powder
1 Tsp Ground Cinnamon
First, preheat your oven to 200°C (392ºF).
Then, mash your bananas with the back of a fork, and roughly chop your pecan nuts. (If you'd prefer, you can use chopped walnuts instead.)
Now, in a large mixing bowl, combine your mashed banana and chopped pecans, with the rest of the ingredients listed above.
Mix well, and then carefully pour your batter into a lined loaf tin.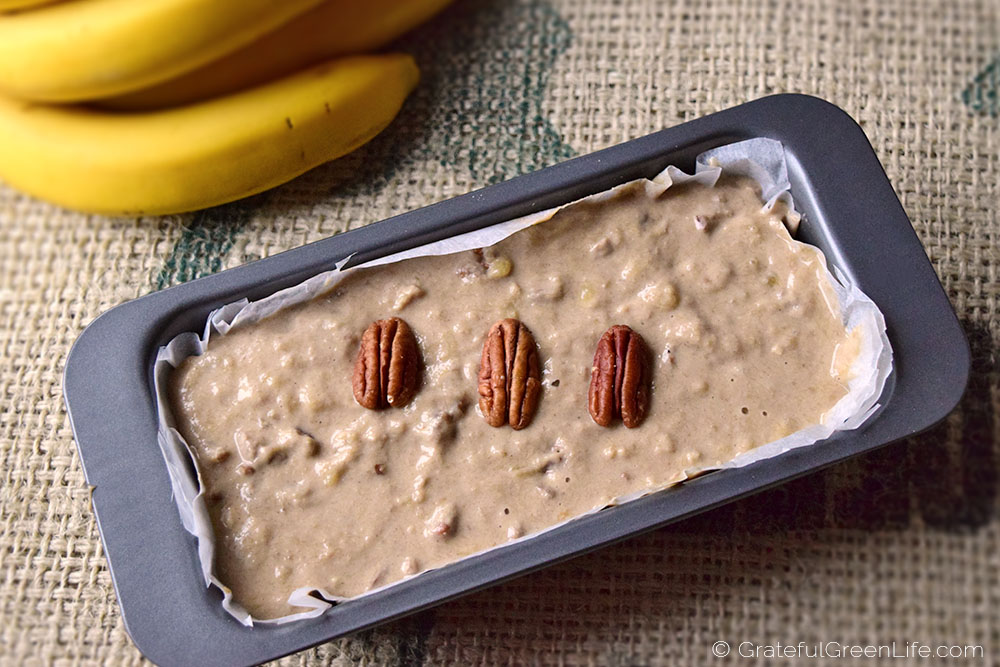 In this recipe, I'm using gluten-free oat flour – because I love the simplicity and taste of it – but plain flour would work as well!
Bake your banana bread for 35-40 minutes, until it's golden brown. Then, once it has cooled, grab yourself a cuppa, and cut yourself a slice! ?
Your Printable Banana Bread Recipe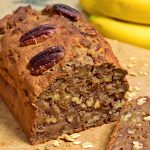 Print
Easy Vegan Banana Bread
This deliciously moist banana bread is super tasty, easy-to-make, and is 100% vegan.
Ingredients
3

Medium-Sized Ripe Bananas

1.5

Cups

Oat Flour

1

Cup

Pecan Nuts

0.5

Cups

Plant Milk

3

Tbsp

Maple Syrup

1

Tbsp

Baking Powder

1

Tsp

Ground Cinnamon
Instructions
Preheat your oven to 200°C (392ºF).

Mash your bananas using the back of a fork, and roughly chop up your pecans.

Place your mashed bananas and chopped pecans into a large mixing bowl. Then add in the remaining ingredients, and stir well.

Next, pour your batter into a lined loaf tin and bake in the oven for 35-40 minutes (until golden brown.)

Allow to cool, and enjoy!
Notes
I've used gluten-free oat flour, but you can use plain flour if you'd prefer. 
If you've enjoyed this post and would like to see more, please don't forget to subscribe!
Please note: I'm not a doctor, and the information on this website is not intended to be a substitute for professional medical advice, diagnosis, or treatment. Always seek the advice of your doctor regarding any medical condition.
This post contains affiliate links, which means I may receive a small commission for purchases made through certain links on this page (at no extra cost to you). Thank you so much for your support!