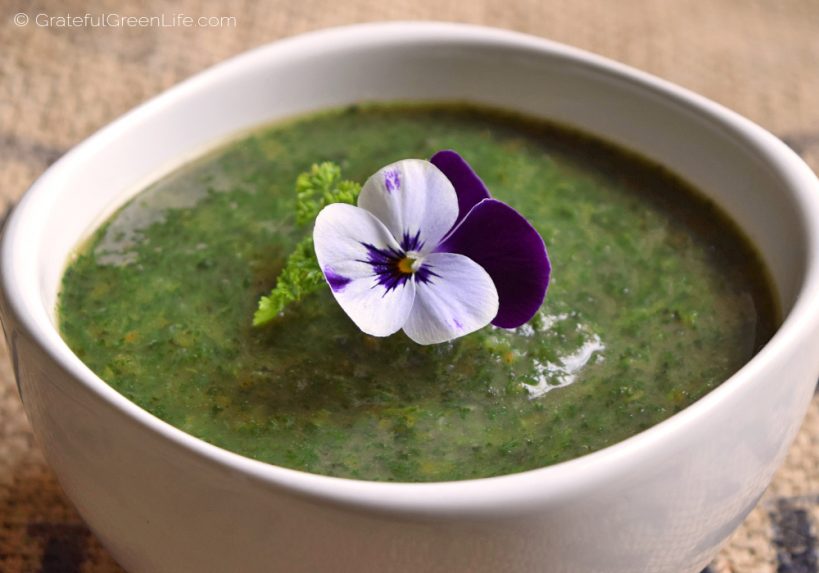 I first discovered nettle soup, when I was living in rural Devon.
Nettles grew there in abundance, and being so far away from the hubbub of urban life (and almost 20 miles from the nearest supermarket) I became fascinated with the idea of foraging for food, and living more closely with the land.
I have to admit, I was a little nervous to try eating nettles (especially after being stung so many times in the past!) but I soon discovered that once they're cooked, their sting becomes neutralised and they actually taste really good!
In the UK, nettles are probably the most and prolific and nutritious wild superfood that you can find, and for many centuries they've traditionally been used as both a food and as a medicine.
Medicinally, the leaves, flowers, seeds, juice and roots can all be used to treat a variety of conditions from arthritis, asthma, allergies and anaemia, to prostate problems, nosebleeds and even nettle rash! (Yes, really!)
Nettles also have an anti-inflammatory and diuretic effect on the body (which makes them extremely detoxifying) and they're loaded with lots of essential minerals, such as iron, calcium and potassium.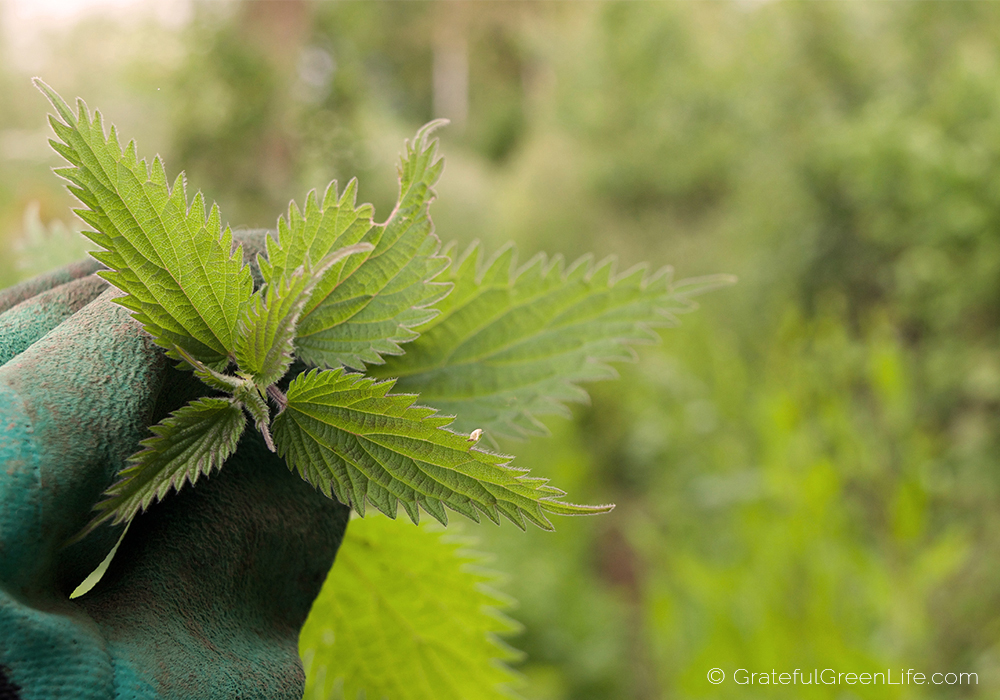 Foraging for Wild Nettles
Nettles are best picked in the springtime when they're still fresh and tender, not yet flowering, and are between 15-30cm tall. 
To make this soup, you'll only want to harvest the top 10-15cm of the plant, and although it's possible to pick them without getting stung (by pinching them out, in the opposite direction to the hairs) I'd highly recommend wearing a gardening glove for protection when you do this!
Because nettles are similar to spinach (both in their taste and how they reduce down) I always tend to pick more than I think I'll need, usually filling a regular-sized, cotton tote bag.
Always take care to pick your nettles from an area that's free from pollutants. (Eg, from natural woodland, rather than from the side of a busy road) and once you've collected your bounty, be sure to wash your plants thoroughly, before using them in this recipe.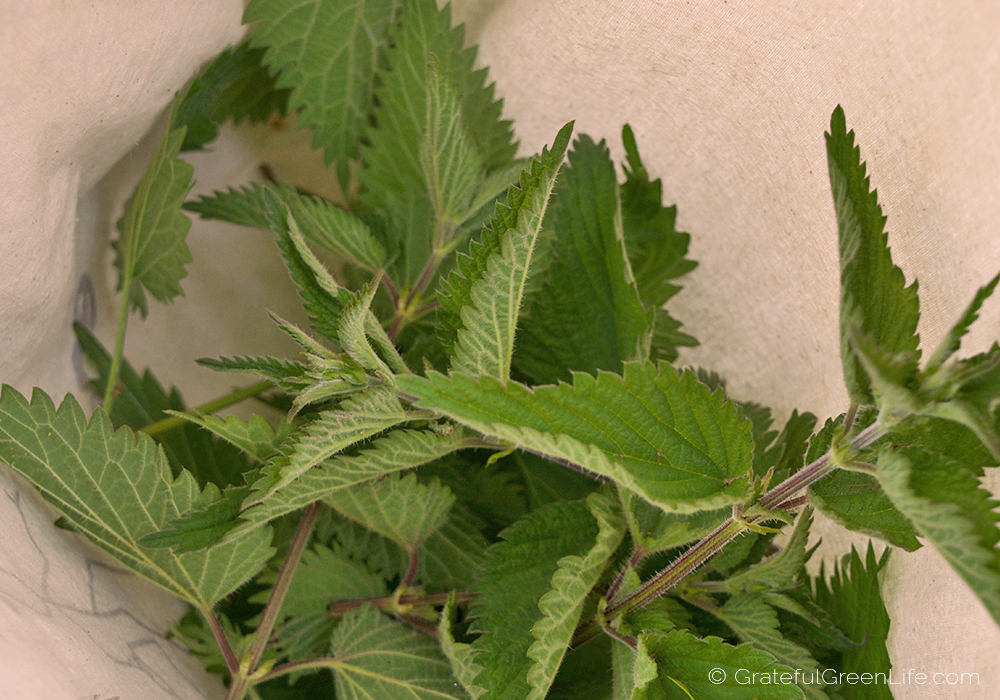 Making Your Wild Nettle Soup
Once you've picked your nettles, and have thoroughly washed them (to ensure they're free of critters, debris and pollution) carefully trim away any thick stems that are particularly large and fibrous.
Next, weigh out 250g of your nettles, and pop them into a large pan along with:
1 Large Carrot (Diced)
1 Large Potato (Peeled and Diced)
1 Large Leek (Sliced)
2 Cloves of Garlic (Peeled and Diced)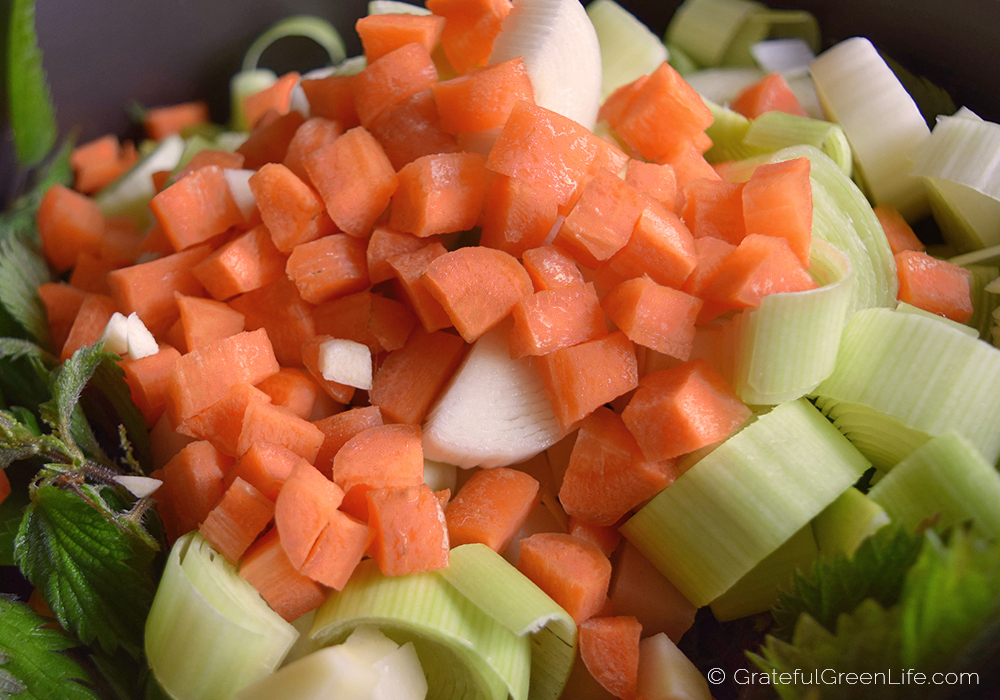 Now, pour 1 litre of vegetable stock into the pan, along with your nettles and vegetables.
You can use homemade stock or shop-bought, but here I'm using two French Onion Stock Cubes by Kallo, which taste amazing and are both vegan and gluten-free.
Next, simply bring the ingredients in your pan to the boil, and then simmer them over a medium heat for 10-15 minutes, stirring occasionally, until the vegetables are soft, but not over-cooked.
During the cooking phase you may wish to add a pinch of sea salt, to best suit your tastes.
Once cooked, give your soup a good blitz with a hand-blender – or, if you don't have a hand-blender, let your soup cool, then pop it into a regular blender, before blitzing, reheating and serving.
This springtime soup is something that I look forward to making and eating every year, and I hope you'll enjoy it too!
Have you tried nettles before, and what did you think of them? I'd love to hear your thoughts in the comments below!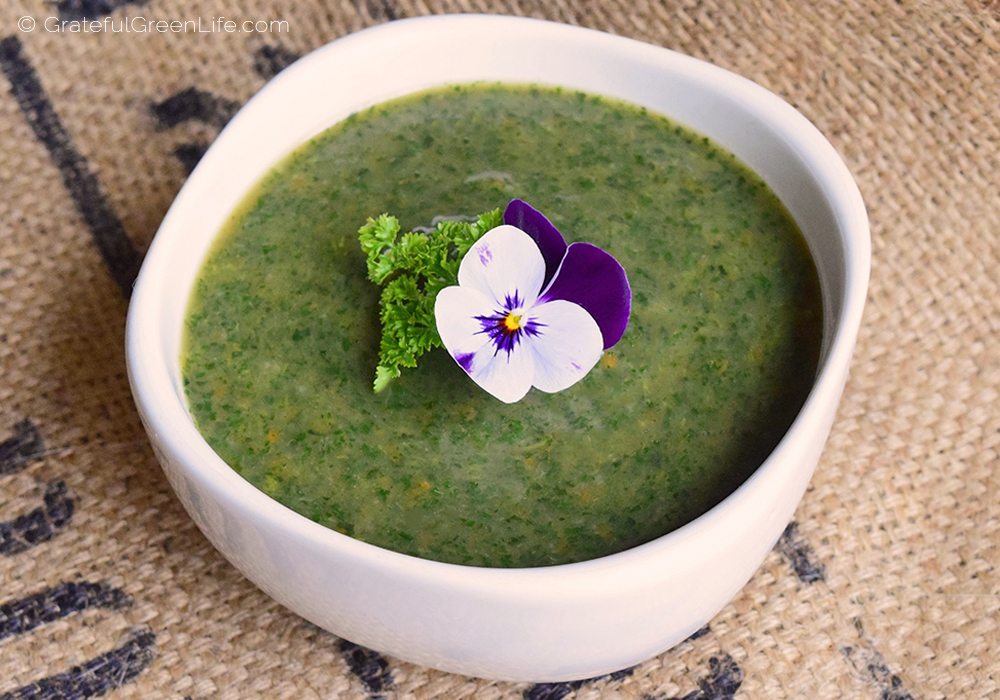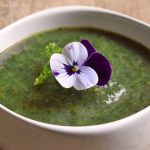 Print
Foraged Wild Nettle Soup
A beautiful springtime soup, made with harvested wild nettles.
Ingredients
250

g

Nettles

Freshly picked and washed

1

Litre

Vegetable Stock

1

Large

Carrot

Diced

1

Large

Potato

Peeled and diced

1

Large

Leek

Sliced

2

Cloves

Garlic

Peeled and diced

Sea Salt

To taste
Instructions
Place your nettles into a large saucepan, along with the diced carrot, potato, leek, garlic and 1 litre of vegetable stock.

Bring to the boil, and then simmer over a medium heat for 10-15 minutes until the vegetables are soft.

At this point you can add a pinch of Sea Salt, to suit your tastes. (optional)

When the vegetables are cooked, remove the pan from the heat, blitz well with with a hand blender and serve!
This post contains affiliate links, which means I may receive a small commission for purchases made through certain links on this page (at no extra cost to you). Thank you so much for your support!
Please note: I'm not a doctor, and the information on this website is not intended to be a substitute for professional medical advice, diagnosis, or treatment. Always seek the advice of your doctor regarding any medical condition.