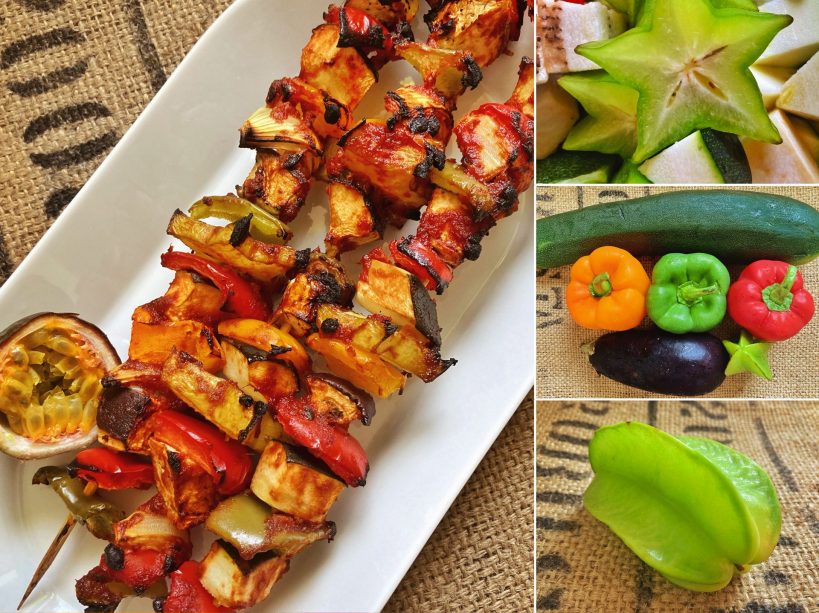 Hey lovelies,
I was recently gifted a box of tropical fruits by Exotic Fruits UK, which I had the absolute pleasure of reviewing. (You can read my post on it here.)
The fruits were absolutely delicious, but rather than simply taste-test them, I thought it'd be really fun to create some recipes with them too!
At the time, we were experiencing an intense, yet short-lived heatwave, and my first instinct was to fire up the barbie and make some fruity kebabs.
Sadly, our barbeque was out of action, so I made our kebabs in the oven instead – which isn't the same, I know, but they still tasted amazing…and we did eat them alfresco!
To make these kebabs, I grabbed a selection of my favourite summer veg – peppers, aubergine and one of my homegrown courgettes. I then went rummaging in my fruit box, to see what I could find!
Starfruit
One of the fruits that I received from Exotic Fruits was a starfruit, which was something I was particularly excited about, as I'd never tried one before!
When it was raw, I was surprised to find that it was quite hard and tasted a bit like an apple, but after learning that starfruit can be cooked, I thought it would be perfect to add to my kebabs!
If you're making this recipe at home, then don't worry, you don't have to use starfruit! You can just omit it, or use another fruit instead – such as pineapple!
Making the Kebabs
Once I'd sliced up my starfruit and cut my veggies into bite-sized pieces, I slid them onto some kebab sticks. I also preheated our fan-assisted oven to 200℃ (392℉).
Next, I made the passionfruit glaze using the pulp of two passion fruits, along with one tablespoon of ginger puree, one tablespoon of maple syrup, and two tablespoons of each of the following items: Garlic puree, tomato puree, soy sauce and water.
I then gave the ingredients a good stir, before basting the glaze onto both sides of my kebabs.
After this, I placed them onto a lined baking tray, and roasted them in the centre of the oven, for around 30 minutes…and this is how they turned out:
Although they weren't done on the barbie, I think they turned out pretty well, and I was really chuffed that the caramelised glaze, gave them a chargrilled flavour!
The passionfruit glaze also gave these kebabs a lovely, tropical twist, which I thought worked well with the flavour of the roasted peppers.
As for the starfruit, I was happy to find that it held its shape perfectly when cooked, and oh wow! It tasted absolutely divine! (I actually thought that it was much nicer cooked than raw, and once roasted it didn't taste like apple at all!)
I don't know about you, but I love making kebabs in the summer – they always remind me of long, sunny days and barbeques with good friends – but as I found out, you don't need a barbeque to make these babies!
What are your favourite summer foods? I'd love to hear your thoughts, and if you make this recipe, I'd love to know what you think of it! It was definitely a hit in our house and I'm sure I'll be making it again soon!
The Recipe
This post contains affiliate links, which means I may receive a small commission for purchases made through certain links on this page (at no extra cost to you). Thank you so much for your support!