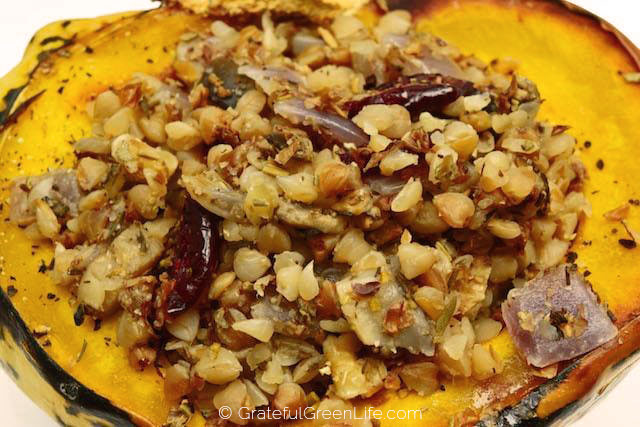 I adore spending time in the great outdoors and one of my favourite hobbies, is tending to my beloved veggie garden!
With winter well on its way though, I've been gathering in the last of the summer harvest, and making lots of hearty meals with the remainders of our homegrown produce.
Today's recipe happens to be one of my favourite dishes of the season – Winter squash stuffed with buckwheat!
This beautiful meal is healthy, warming and delightfully filling, and is perfect for sharing with friends.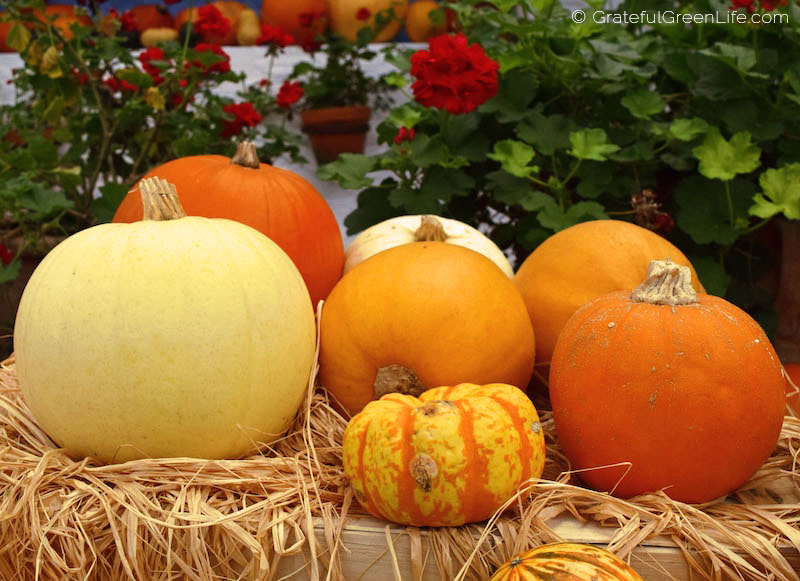 Healthy, Wholesome and Hearty!
Winter squashes are easy to grow, and are extremely delicious and nutritious!
They're packed with antioxidants – especially vitamin C – which makes them helpful for boosting the immune system, particularly during the flu season!
Buckwheat is also a very healthy ingredient, which is great for supporting the cardiovascular system.
This satiating pseudo-grain (which is technically a fruit seed!) is high in fibre, naturally gluten-free and adds a wonderful texture to this recipe!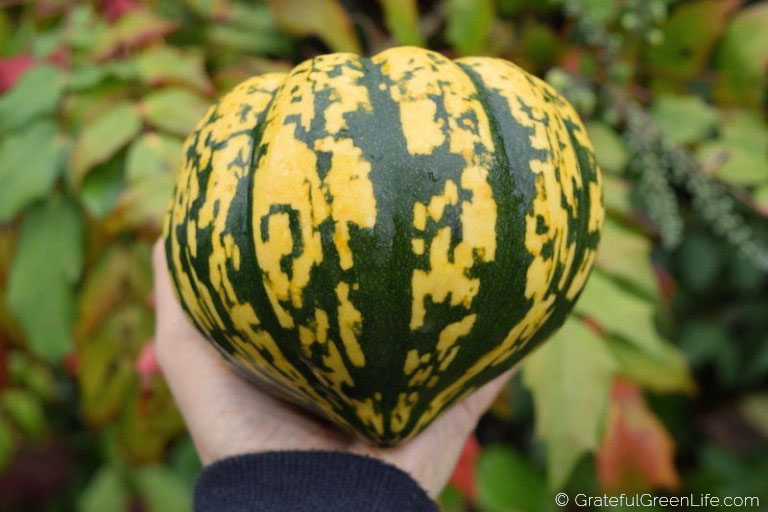 Roasting your Winter Squashes
To make this dish, first, wash your squashes, then halve them (or quarter them if they're large) and scoop out the seeds inside.
Next, place them skin-side-down onto a lined baking tray, season them with a little salt and pepper, and pop them into a preheated oven at 200℃ (392℉).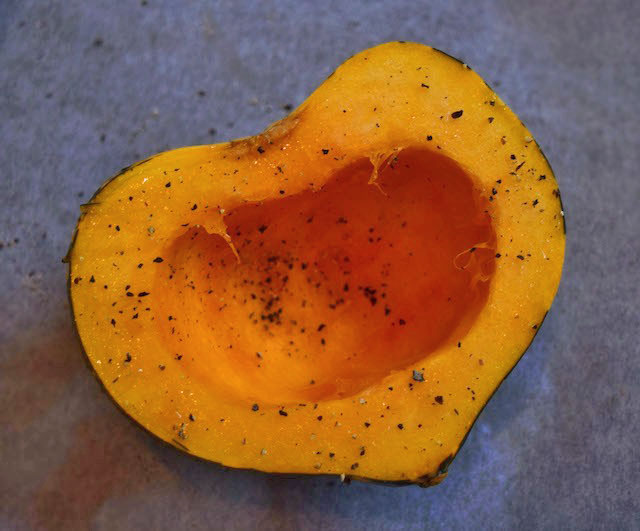 The amount of time that they'll take to cook will vary depending on your oven, as well as the type and size of squash you're using. Aim for them to be soft enough to be easily pierced with a knife.
This small acorn squash (pictured) took around 40 minutes to cook, with a further 10 minutes in the oven, once the stuffing had been scooped in.
Making the Buckwheat Filling
While the squash is cooking, it's time to make the herby buckwheat stuffing!
In a pan, place one cup of dry toasted buckwheat groats, 200g of raw, sliced mushrooms and one cup of diced onion. Cover with water and simmer for approximately 15 minutes, until the buckwheat is cooked.
Next, strain off the water and place the buckwheat mixture into a large bowl.
Add in 4 tsp of each of the following ingredients: Garlic granules, onion granules, dried rosemary and dried thyme. (You can use fresh herbs if you wish!)
Also, add in 2 tsp of dried sage, half a teaspoon of salt (or however much you like, to best suit your tastes), 80g of dried cranberries and 40g of crushed walnuts. Stir well until the mixture is well-combined.
Putting the Recipe Together!
Once the roasted squash is suitably soft, carefully remove it from the oven and stuff each section with the herby buckwheat mixture. Try to pack them as tightly as possible, before returning them to oven for a further 10 minutes of cooking.
When they're ready, serve them up with a rainbow of steamed seasonal veg, and enjoy!
If you like this recipe, please let me know in the comments below. I'd love to hear your thoughts!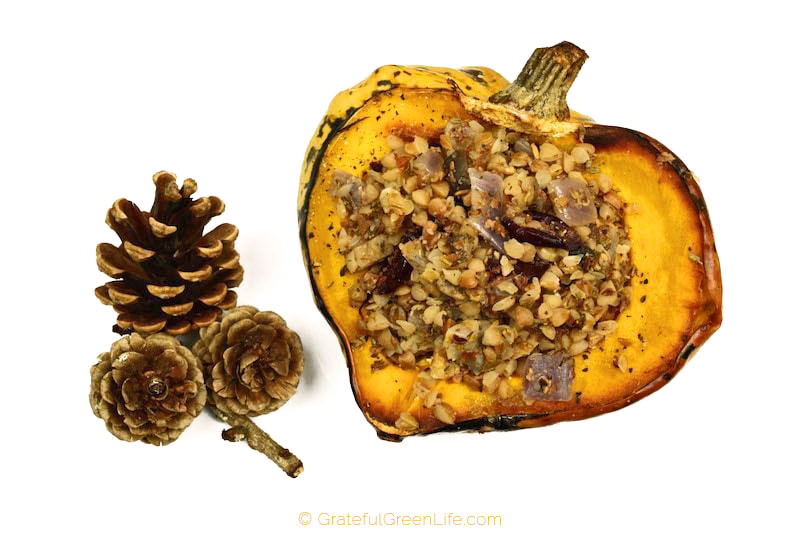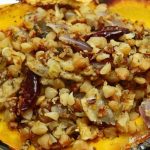 Print
Winter Squash Stuffed with Buckwheat, Walnuts and Cranberries.
A delicious seasonal recipe for roasted winter squash stuffed with herby buckwheat, walnuts and cranberries.
Ingredients
2

Winter Squashes

For this recipe I've used 2 acorn squashes, to serve 4 people.

1

Cup

Dry Toasted Buckwheat Groats

1

Cup

Diced Red Onion

200g

Sliced Raw Mushrooms

80g

Dried Cranberries

40g

Crushed Walnuts

4

Tsp

Garlic Granules

4

Tsp

Onion Granules

4

Tsp

Dried Rosemary

4

Tsp

Dried Thyme

2

Tsp

Dried Sage

0.5

Tsp

Sea Salt

Adjust to suit your tastes.

A Dash of Sea Salt and Cracked Black Pepper

To season the squash, before roasting.
Instructions
Preheat your oven to 200℃ (392℉)

Wash your winter squashes, halve (or quarter) them depending on their size, scoop out the seeds and place them on a lined baking tray.

Season them with a little salt and pepper and roast them for around 40-60 minutes until the flesh is easily pierced with a knife.

While the squash is cooking, place the buckwheat, mushrooms and onions into a pan. Cover with water and simmer for around 15 minutes, until the buckwheat is cooked.

Next, strain the buckwheat mixture and place it into a large mixing bowl with the garlic granules, onion granules, dried rosemary, dried thyme, dried sage, salt, cranberries and walnuts. Mix well.

When the squashes are cooked, carefully remove them from the oven and fill them with the stuffing. Pack them as firmly as possible.

Return the stuffed squashes to the oven for around 10 minutes, then serve with steamed vegetables or salad. Enjoy! x
Notes
Any leftover buckwheat mixture can be stored in the freezer for up to 6 months, and thawed and used as necessary.